FLORIDA ASTRONOMY
There are public Astronomy events in Florida's parks, star parties and New Moon observing events with Astronomy clubs from dark sky sites, and events at observatories and planetariums. I list the ones I hear about at the Florida Astronomy Events page.

---

All images above by Jason Higley

A Sept. 14th interview by Event Horizon on YouTube

A recent The Sky Above Us by James Albury on YouTube. James is back in-person again, yay; nice beard James! :^)

A Sept. 16th SpaceTime with Stuart Gary on YouTube
Below is a recent image of Saturn I shot on Sept. 3, 2020, using a Sony Cybershot point-n-shoot camera afocally mounted to an eyepiece on a Criterion Dynascope 12 telescope. The apparent angle here is how it looked relative to the Earth/observer/telescope and I don't rotate it in software to limit image degradation. This month you can find Saturn in the sky right after sunset to the left of Jupiter (Jupiter is the brightest object in the sky to the Southwest/South just after sunset), and you can see it where it is on the first graphic on the
Tools page
. Also check out very bright Mars rising in the East ~10 p.m.-ish.
You can find my much older planet imaging attempts here at
Some Astro Images page
Below is the latest Sun image from minutes ago in a different spectrum of light via the SDO AIA304 filter (304 Angstroms or 30.4 nanometers) emission wavelength of the helium ion. Images Courtesy of NASA/SDO and the AIA, EVE and HMI Science Teams.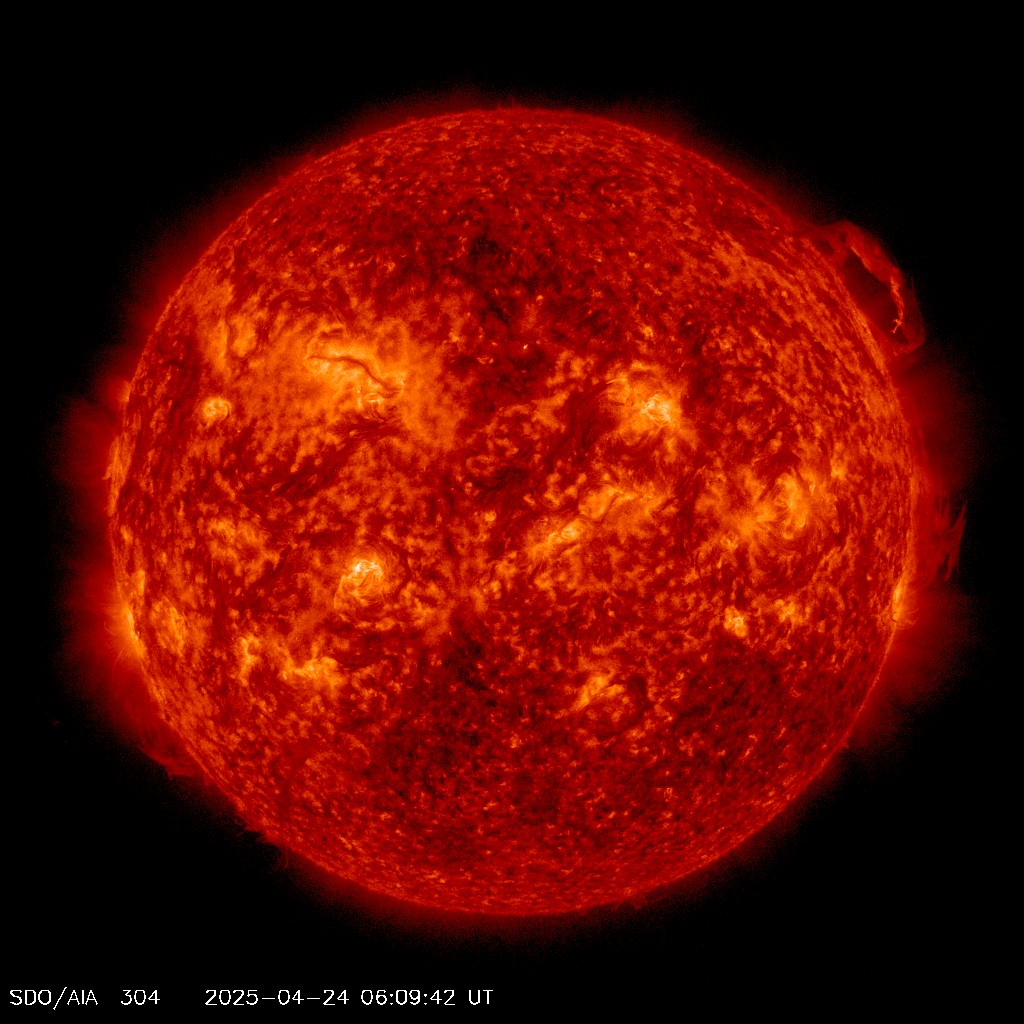 LATEST SUN IMAGE - The image below is the Sun's disk today (via the NASA Solar Dynamics Observatory satellite HMI filter). If sunspots were visible they would appear here. Never look directly at the Sun with your eyes, binoculars or a telescope without the proper filter protection. The Sun is starting to wake up again with a new sunspot cycle, so watch here over the next few years as the activity gradually increases.
---
---
---
THE SKY AS IT APPEARS RIGHT NOW OVER CENTRAL FLORIDA,
OTHER FLORIDA LOCATIONS WILL APPEAR VERY SIMILAR. THE RED LINE IS THE ECLIPTIC (WHERE OUR SOLAR SYSTEM'S PLANETS, SUN AND MOON TRAVEL.)