Free Astronomy tools for finding objects in the sky:
CURRENT CONSTELLATION & PLANET LOCATIONS SKY MAP OVER CENTRAL FLORIDA (STEREO PROJECTION), OTHER FLORIDA LOCATIONS LOOK VERY SIMILAR. DRAG VIEW TO ROTATE. Green line is North/South Meridian marker, other long arcing lines are the Ecliptic and planet orbits.
---
---
---
THE SKY AS IT APPEARS RIGHT NOW OVER CENTRAL FLORIDA,
(BUT THIS TIME AS A POLAR PROJECTION MAP) OTHER FLORIDA LOCATIONS WILL APPEAR VERY SIMILAR. THE RED LINE IS THE ECLIPTIC (WHERE THE PLANETS, MOON AND SUN TRAVEL), THE GREEN LINE IS THE LOCAL MERIDIAN.
---
---
ALADIN LITE - Below you can scroll your mouse over the image zoom, or search ALADIN LITE which uses "Aladin sky atlas" developed at CDS, Strasbourg Observatory, France. The default location I've set is at the nebula M78 using the DSS2 survey. You can select different surveys using the page-looking tab on the top left. You can also enter a right ascension and declination of any part of the sky or enter the designation (like "M51" or "Castor" using the magnifier glass icon. Solar system objects like planets, the Sun, comets and asteroid names do not work in this tool.
---
---
SOLAR IMAGES BELOW SHOW WHAT YOU MIGHT BE ABLE TO SEE (USING PROPER FILTERS) OR IMAGE ON THE SUN TODAY.
Below is the latest Sun image from today via the SDO AIA304 filter (which is the 304 Angstrom or 30.4 nanometer emission wavelength of the helium ion.) Images courtesy of NASA/SDO and the AIA, EVE, and HMI science teams.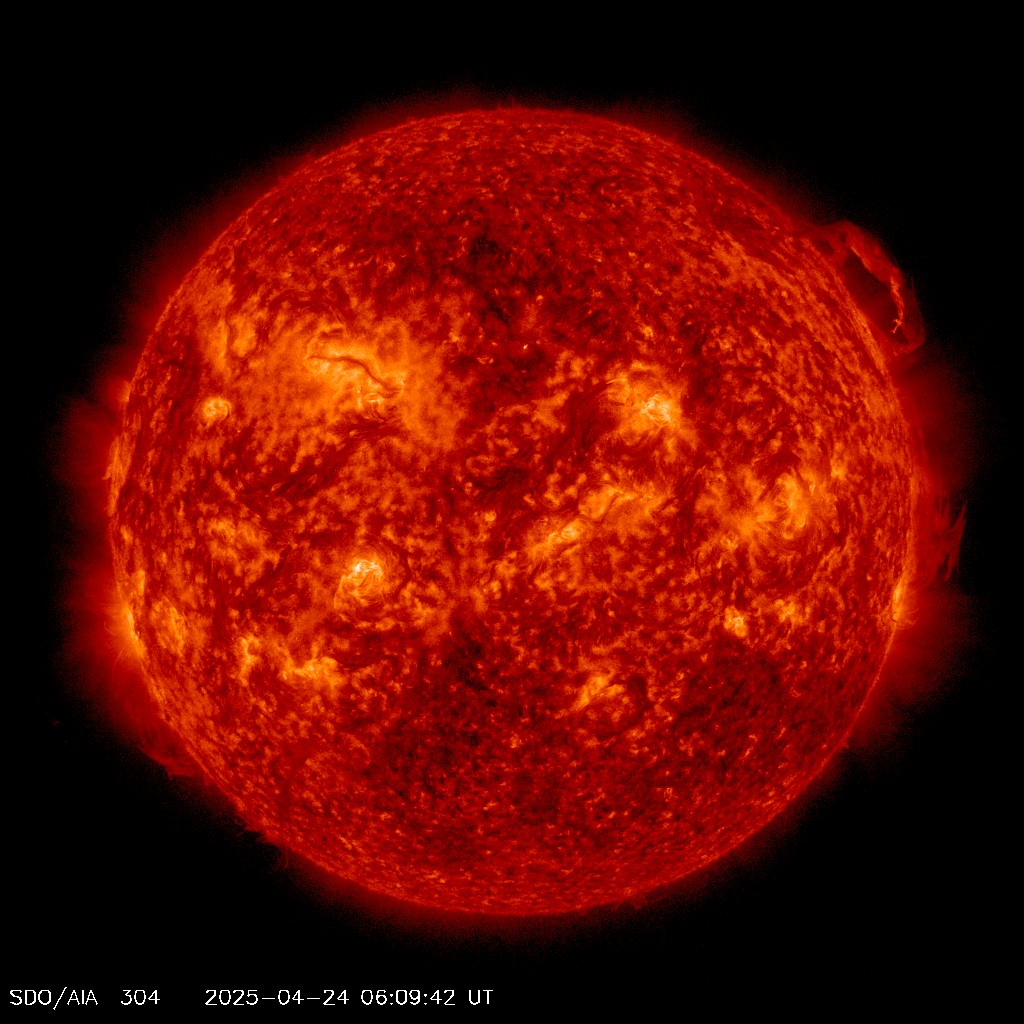 Current HMI image via NASA's Solar Dynamics Observatory satellite. It shows the sunspots that would be visible today using white light solar filters or the projection method.